Front of the house
Those white and red awnings are metal, and really do a great job keeping light from coming in to the house. You can still see the "Sale Pending"
sign up at this point - it was up for quite a while.

Before any changes
---

Here is the termite company covering the house with a big tent so they can fill it with anti-termite poison.

---
Now the metal awnings have been removed, you can see what a nice open space that will be.

Day One
---

Now the old windows are gone, too. The new ones should be in around day 13.

Day Three

---

You can see where they're getting ready to rip out the weird bonus door that goes to the furnace/hot water heater.

Day twelve

---

The bonus door is gone! Getting ready to stucco over the hole.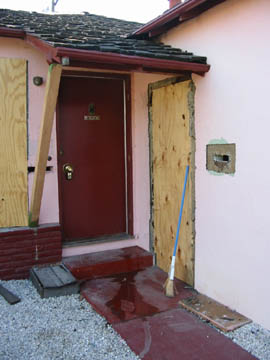 Day thirteen

---

One of the new front windows has been put in. You can't see the other front window,
but it's covered in plywood anyhow.

Day fourteen

---

Now both front windows are in! And with the patio glass in the living room, you can see
right through to the back wall of the patio. Admire the giant pile of old carpet that the floor
guy took out.

Day sixteen
---

The floor guy came and took away the carpet that he ripped out. Other than that
the only change is Zoe is visiting.

Day Twenty-three
---

Whoa, the chimney and other outside brick are gone! We had the stucco guys cover
them up. Otherwise we'd have had to live with maroon, or have had to put three coats of
some other color on top of the brick.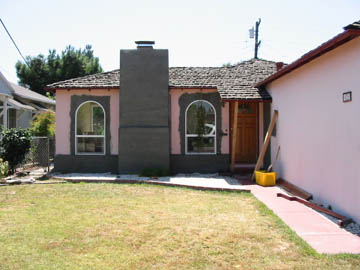 Day Twenty-six
---

We are still waiting for the stucco to dry so they can paint, but you can see it has
dried quite a bit already. They put another coat on since the last picture, too.

Day Thirty-one
---

Today the painters went around and painted the bare stucco blue. This is not the blue we want
for the final house color! It's just primer. I kept telling myself that. The neighbors were walking by
with their jaws hanging open.

Day Thirty-nine
---

Here's the final blue! Not quite done yet though.

Day Forty